727 Billet Servos
---

Front Kickdown Servo:
I have recreated the highly desired 71 and earlier 727 front kickdown servo assembly. This is the part of the transmission responsible for applying the front band during the 1-2 shift. Mine is CNC machined out of solid billet aluminum. This is the servo assembly all of the shift kit manufacturers recommend that you use when building a performance transmission instead of the later oil cushioned servo. Unfortunately, the supply of the original factory servos is running out. Chrysler stopped using these in 1971 and they are getting very hard to find, so I decided it was time to do something about that. My servo comes as a kit with the piston, an improved cover which has a o-ring that seals it to the shaft, the steel shaft, sealing rings and 2 stainless steel return springs. This is a ready to install kit, all the pieces you need are included. This kit will fit the 727, 518, 618, 46RH, 46RE, 47RH and 47RE transmissions.


The price for this kit is $95.00

---
Rear Low Reverse servo:
Since I was already doing the front servos I also decided to make an improved rear servo assembly. My rear servo piston is a 1-piece design that replaces the stock piston, inner spring, piston plug, snap ring, and the after market shim used in performance rebuilds. Thats right, my 1 piece piston replaces all 5 of those pieces. Mine is CNC machined out of solid billet aluminum so it will not crack like the stock cast aluminum pistons are known for doing. It comes in a kit with a heavy duty stainless steel return spring that will eliminate 1-2 shift overlap, a Teflon coated seal, and a .075 extra thick retainer made from stainless steel that will not bend around the retaining ring and come out of the case like the factory steel retainers do. This kit fits 67 and newer 727, 518, 46RH, and 46RE transmissions.


The price for this kit is $75.00.
All parts are 100% MADE IN THE USA!!!
---
BILLET ALUMINUM ACCUMULATORS
These will fit just about any torqueflite transmission including the 727, 904, 998, 999, 500, 518, 618, 42RH, 42RE, 46RH, 46RE, 47RE, and 48RE, almost every rear wheel drive transmission from 1962 on up to the 2006 48RE Cummins Turbo Diesel overdrive transmission. These are a great upgrade for all the 727s and 904s and are also perfect for replacing the plastic accumulator that Chrysler switched to in the late 80s. The plastic accumulators are known for cracking and causing problems in performance transmissions. Also, you cannot use the better steel sealing rings on the plastic accumulator. My billet accumulators include the steel sealing rings. I have done these 2 different ways: First is an exact stock replacement, this one will accept all the stock springs whether they go between the case and the piston or the piston and the valve body. These are perfect for the turbo diesel guys that have tighter aftermarket torque converters, or for the person doing a stock type rebuild on a gas transmission. Second is with a built in blocker rod that will stop the accumulator from moving in the bore and firm up shifts. No need to cut down round stock and make a blocker rod anymore, I did it for you.
The price on these are $40.00 each.
There is also a $8.00 shipping & handling charge per order.


All Product are 100% Made in the USA.
If you have any questions or want to place an order, email mrrandyj@aol.com

---
These SuperCar ShootOut Cars Have
Randy Juliani's Parts & Transmisions:
SuperCar ShootOut's Overall Fastest & Fastest Mopar Big Block:
Ed Cook's 1969 A12 Road Runner 440+6BBL Auto
11.13 E/T 124 MPH
---

Ralph Barbagallo's 1970 Road Runner 440+6BBL Auto
11.21 E/T 123MPH

---
SuperCar ShootOut's Fastest Mopar Mid Block: John Frederick's
1970 Super Bee 383 Auto.
12.61 E/T 110 MPH
---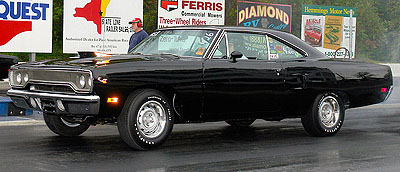 Ralph Barbagallo's 1970 Hemi Road Runner
11.90 E/T 120 MPH

---

SuperCar ShootOut's Xtreme Class Gary Gerard's
1965 Plymouth AFXER
11.01 E/T 118 MPH